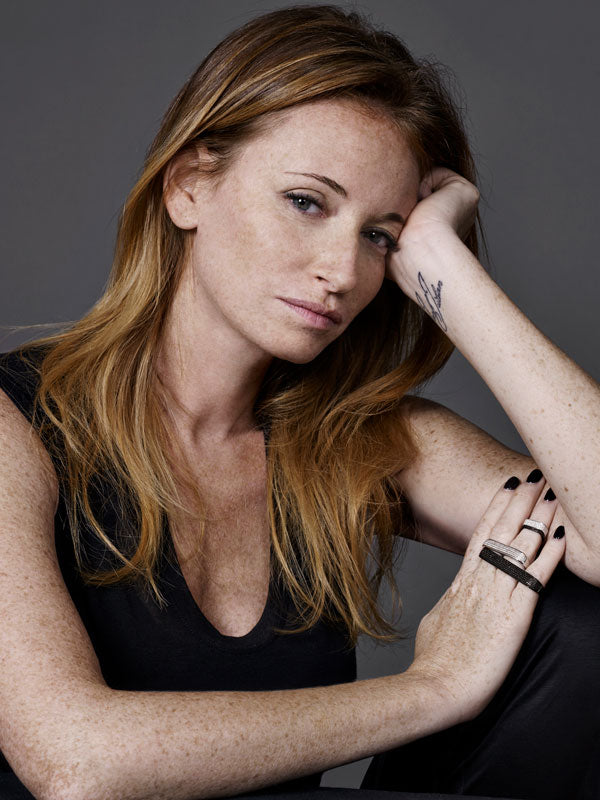 "SOME STONES ARE GORGEOUS BUT THE PERSON WHO WEARS THEM TRANSFORMS THE JEWELLERY."
Over a decade ago, Audrey Savransky founded label AS29 with the desire to offer modern women a non-conformist approach to wearing fine jewellery. Today, the brand continues to deliver on that mission by crafting pieces that are unique, rebellious and effortless enough to wear beyond the realms of just special occasions.
"The AS29 woman is a strong woman – captivating and confident. When I'm designing for her, the goal is always to create something that feels bold and powerful, but at the same time will move effortlessly between different occasions."
A fourth generation diamantaire
Born in Belgium, Audrey is the fourth generation of her family to work in the diamond industry. Growing up surrounded by precious stones, a curiosity for turning jewels into luxurious fine jewellery has followed Audrey from a young age. Her fascination has only strengthened throughout her life, leading to the creation of AS29.
With a wealth of design and technical experience, Audrey understands the unique appeal that gold has over other precious metals and chooses raw materials with an incredibly high level of purity. Most pieces are crafted from indulgent 18k gold which offers the perfect balance between pure gold content and strength to create pieces which are as perfect for a special event as they are for everyday wear.
Drawing upon the timeless influences of geometry and gemstones, AS29 designs made to be worn on high-rotation and are constructed to last a lifetime. "I want to create jewellery that is more than just an accessory – it's an extension of the wearer, and an heirloom that will hold memories for years to come."
PRESS & Media
Year after year, AS29 has been seen on inspiring women and celebrities including Alessandra Ambrosio, Bella Hadid, Beyoncé, Camila Cabello, Carrie Underwood, Chanel Iman, Chrissy Teigen, Ellen Pompeo, Gal Gadot, Halle Berry, Jennifer Lopez, Kate Beckinsdale, Laura Dern, Lucy Liu, Mandy Moore, Mary J. Blige, Michelle Obama, Rihanna, Rita Ora, Shanina Shaik, Tessa Thompson, Tiffany Haddish, Victoria Justice and many more.
You can find AS29 stocked by global luxury retailers including Farfetch, Goop, Lane Crawford, Qirdala, Sylvie Saliba, Sirius Gold and 1stdibs.
"For the woman with purpose and action in her life – whatever that may look like – AS29 is her armour."